Roma Fuels supplies fuel and engine oil to several industries across the Greater Toronto Area. Specifically, we offer Shell, Quaker State and Pennzoil lubricants to the construction industry, farm, and industrial operations and lastly, refueling for fleets. You can expect to receive timely, reliable, and quality service each and every time.
Whether you require construction refueling & on-site delivery, fleet fueling, above ground storage tanks, generator tanks & delivery, or trans cube, our highly trained staff operate 24/7, to meet your specific needs. Our customers will benefit from enhanced productivity, as our services have been designed to reduce your equipment downtime. If you're looking to reduce your costs and improve the efficiencies of your day-to-day business operations, consider turning to Roma Fuels.
At Roma fuels, we take pride in our services and we are pleased to guarantee that our clients will receive top-quality solutions from industry leading suppliers.
Construction Refueling & On-Site Delivery
As a top on-site refueling company servicing the construction industry in Ontario, we assist construction companies with improving their productivity levels. Our construction refueling & on-site delivery services provide on-site refueling for construction machinery, rental construction equipment, storage tanks, fuel cubes, fuel cells, generators to power construction sites, and more. When you need speedy refueling and on-site refueling services delivered to your construction site, our team is one that can be trusted to provide you with the peace of mind and service you deserve.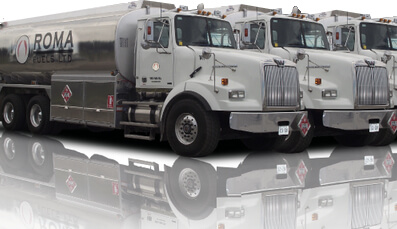 Fleet Fueling
We provide wheel to wheel fuel delivery to buses, transport, cement, gravel, food distribution, and industrial fleet. Our fleet fueling and delivery services provide you with the safest and most trusted form of having your fuel delivered directly to your fleet.  Your crew will receive the highest level of service from our professional drivers, who are trained and qualified to ensure you receive superior and timely service. Interested in trying us? We offer a special promotion to first time fleet fueling customers! Click to find out more. Fuel is a top expense for the majority of our clients; learn how you can save dramatically by controlling these costs. At Roma Fuels, we will help save you money!
Wheel to Wheel Refueling
At Roma Fuels, we understand the importance of quick and reliable delivery for your fleet. That's why our wheel to wheel refueling service is designed to ensure that you get the fuel you need when you need it most. Our professional drivers are certified and trained to provide quality service while keeping your environment safe.
Above Ground Storage Tanks
Looking for a safe and flexible option for fuel storage? Roma Fuels offers  ULC S601-07 double walled certified storage tanks that range from 1360 Litres to 50 000 Litres in size. We'll deliver and install these above ground storage tanks, on-site at your specified location. We use steel construction for our tanks and each of them have an overfill spill bowl, double walled construction, an emergency vent and additional important features you'll appreciate.
Generator Tanks & Delivery
Roma Fuels provides generator tanks and diesel delivery services to clients in need of an operating generator. We realize the importance behind a working generator and wanting the peace of mind that it will run properly when it's needed. Prior to our delivery services, clients are asked to have a detailed inspection done on the generator to ensure that it is safe to use as per TSSA, Ontario regulation standards.  Confirm that yours is safe and prevent unnecessary costs!
The Trans Cube
The Trans Cube makes it possible to have your temporary fuel storage management all together in one easy solution. The Trans Cube TCG is a portable above ground, double walled mobile fuel storage tank, built to provide on-demand fuel supply for construction sites and standby generators. It can be connected to diesel generator engines while still being able to fill on-site equipment distributed through the use of a manual or electric pump. We provide monthly rental and purchase options on our Transcube!
The Cardlock
Review and analyze the amount of fuel your drivers are going through. The cardlock allows you to look at individual drivers' habits so you can adjust and simplify your fuel management. This is a new tool for easy fuel management that doesn't come with the risks associated with credit cards; no worry to stress about fraud or misuse. Features provide you with the access to create restricted PIN's and reduce maximum purchase amounts. You'll receive detailed monthly reports that clearly indicate the specifications of each purchase and where you can reduce your costs.